Test nondestructive visual welding
Non-destructive testing of liquid penetrant
Test nondestructive magnetic particle
Welding procedure TIG / ER for carbon steel pipes, stainless steel and alloy steel;
Qualified welders
Preparation and application of Chartek:
Chartek brand has 30 years of trackrecords protecting oil and gas installations explosion, hydrocarbon fire and fire jets.
The certification Chartek 7 for fire jets is for durations over 3 hours, according to extensive testing with fire puddle type and according to ISO 834-3 TR. The TypeApproval certification also covers the resistance to blast where Chartek 7 is resistant to explosive charges up to 4 bar. Preparation and installation of Charcast:
Charcast®7 passed a long fire test program including fire stream for up to 4 hours according to the recommendations of ISO 22899-1. Lloyd Register Certification is now in place and the approval ABS.
Charcast®7 is specifically designed for maximum heat, light and fast performance installation "dry-fit" in areas where conventional methods of protection spray application or fire spatula are not feasible or applicable.
This unique fire protection system can be installed quickly and simply on what is already there – bulkheads, underdecks and structural members.
» Surface treatment services for water jetting with Ultra High Pressure (over 40,000 PSI) and painting in Offshore Platforms and Oil ships, including robotic units;
» Surface treatment services for water jetting with Ultra High Pressure (over 40,000 PSI) with the addition of abrasive (glass flake) for new surfaces and where there is need for profile opening;
We use several standards references for Industrial Painting, such as: N9, N13, N442, N1550, N 1201, N1205 e a N1021.
The main used paints are a N2630, N2680, N 1277, N1661, N2231, N2677 e a N2912.
Industrial Maintenance Customer-specified location:
Industrial Piping in general (w / Gas Pipeline, etc …), in carbon steel, stainless steel, alloy, etc;
Steel Structures;
Pressure Vessels, Storage Tanks, furnace burners;
Valves, Industrial furnaces, heat exchangers, towers, boilers;
Boilers General;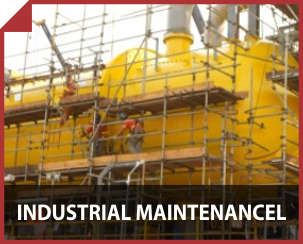 Performed Works