The Betun operates in Buildings and Industrial Assembly, Project Management and Supervision of works with a team of engineers, technicians and skilled labor in all areas.
Test nondestructive visual welding
Non-destructive testing of liquid penetrant
Test nondestructive magnetic particle
Welding procedure TIG / ER for carbon steel pipes, stainless steel and alloy steel;
Qualified Welders
Elastomeric Foam
Ceramic Fiber
Rockwool
Glass Wool
Polystyrene
Polyurethane
Silicate Calcio
Manufacturing and Industrial Assembly in its on site or in the Customer indicated location.
Industrial Piping in general (w / Gas Pipeline Pipeline Pipeline, etc …), in carbon steel, stainless steel, alloy, etc .;
Steel Structures;
Pressure Vessels, Storage Tanks, furnace burners;
Valves, Industrial furnaces, heat exchangers, towers, boilers;
Boilers General;
Warehouses Management, Labor Supply for Supervision and Works Administration (boilermakers, welders, fitters, supervisors, foremen, quality inspectors, etc.).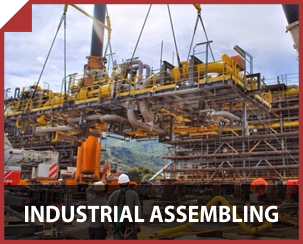 Performed Works